€3,135.00
No tax
€3,300.00
Size chart
Women's clothing size
| Size | XS | S | M | L |
| --- | --- | --- | --- | --- |
| Euro | 32/34 | 36 | 38 | 40 |
| USA | 0/2 | 4 | 6 | 8 |
| Bust(in) | 31-32 | 33 | 34 | 36 |
| Bust(cm) | 80.5-82.5 | 84.5 | 87 | 92 |
| Waist(in) | 24-25 | 26 | 27 | 29 |
| Waist(cm) | 62.5-64.5 | 66.5 | 69 | 74 |
| Hips(in) | 34-35 | 36 | 37 | 39 |
| Hips(cm) | 87.5-89.5 | 91.5 | 94 | 99 |
How To Measure Your Bust
With your arms relaxed at your sides, measure around the fullest part of your chest.
How To Measure Your Waist
Measure around the narrowest part of your natural waist, generally around the belly button. To ensure a comfortable fit, keep one finger between the measuring tape and your body.
Reference:
TK-STL-TR3-20-A
STL-TR3-20
STL Link Transmitter and Receiver
Band 820-960MHz 20W
Our STL Link Transmitter and Receiver, transports Cristal and Clean High Quality Audio Signal several miles away-A820-960MHz-20W-Worldwide Immediate delivery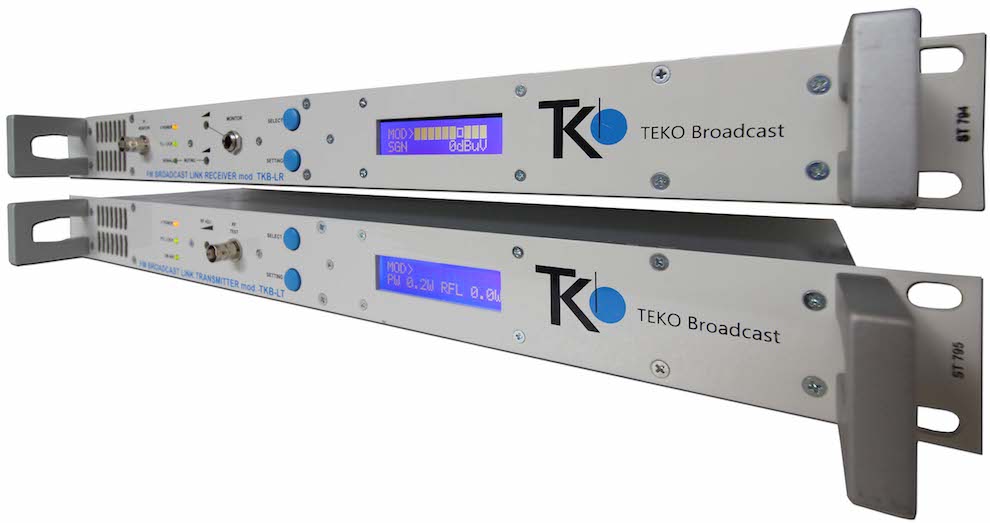 DESCRIPTION: Designed to transport audio signals from the studio to the transmission sites maintaining high quality.
These radio links were specifically designed to comply with the latest international standards and the requirements of advanced broadcasters, meeting tighter specifications than usually required, at an affordable cost.
Great care was spent into producing a Hi-Fi-quality modulated signal, with low residual noise and distortion. The RF signal is also free from spurious and harmonic components to a higher degree than required by CCIR, European, USA and most other national standards.


STL Studio Transmitter Link Description
The RF signal is also free of spurious and harmonic components to a degree greater than that required by CCIR, Europe, USA. UE And most other national standards.
Maximum attention has been put into producing a modulated signal of High Fidelity quality, with high noise signal ratio and very low distortion.
The TK-STL-TX transmitter and its TK-STL-RX receiver are the basis of a high quality synthesized link (STL), which is used to transport the signal from the studio to the radio transmitter or for repeaters with FM or AM modulation.
They allow reception of mono or stereo signal and its retransmission without using any additional stereo encoder at the receiving end: in both cases, the LF output signal of the receiver can be connected directly to the MPX input of the transmitter or the local FM relay .
The STL is built for several frequency bands in the SHF range.
These radio links were designed to meet modern international standards and the requirements of existing broadcasters, complying with strict specifications at an affordable cost.
Since they are digitally controlled, they can be programmed on the radio station from the front panel or remotely.
The alphanumeric display allows you to measure, adjust and monitor modulation levels, power and operating parameters.
All this information is available externally through the RS232.
The Low Frequency Audio input and output levels are precisely adjustable over a wide range by means of variable attenuators.
The transmitter has an auxiliary input for RDS and SCA encoders.
A modulation monitor output allows other transmitters or STLs to be fed with the same high quality MPX signal processed internally. In addition, the system is compatible with external digital encoders / decoders and to provide RDS and SCA signals without attenuation.
A universal switched power supply allows operation in the extended range of 95-250 VAC without intervention and a 24V backup battery input is also provided.
STL Studio Transmitter Link Highlights
Synthesized from 48 to 900 MHz and from 1.2 to 2.7 GHz (/ 2G models). The transmitted and received frequencies can be easily set by the front panel display. Changing frequency is very simple and easy thanks to frequency synthesis with 10 kHz steps and to the simplified calibration of the input filter.
It's possible, to vary the output level of the demodulated signal from –12dBu to + 12dBu with 0.1 dB steps and a 0.03 dB precision; the received signal level can be measured on a dBm scale (as on a spectrum analyzer) on which the squelch intervention threshold can be set.
Excellent stereo separation. A built-in group delay and amplitude pre-corrector guarantees a very low linear distortion and a great stereo separation in the whole 15kHz band.
Suitable for digital audio. The subsonic over-modulation and the low frequency phase distortion are controlled by a feedback circuit in order to exalt the audio quality of the latest digital systems.
Low noise. The excellent signal to noise ratio either in mono or in stereo assures the perfect use of this STL in multi-hops networks without decreasing the audio quality.
High sensitivity. Using ultra low noise amplifiers, selective filters and with a powerful demodulation circuit the obtained receivers sensitivity is very high, so allowing longer link distances with reduced antenna investment.
Great RF immunity allows to operate in most hostile RF environments.
High adjacent channel rejection, obtained thanks to the excellent mechanical shielding and the precision of RF filtering.
High frequency stability with the internal temperature compensated crystal reference.
Simple and clear menus on a LCD graphic display allow to control all the main functions of the receiver and to precisely measure main parameters as frequency deviation, MPX pilot tone deviation, the received signal level and squelch level. Full metering: complete diagnostic and measurement of all the main parameters is available using front panel LCD display. Full remote control is available as an option • Provided with a battery to ensure continued functioning even in absence of power supplying and it's provided with an alarms output for remote control. VDC power supply option is available for battery or solar panels operations • Meets or exceeds all FCC and CCIR requirements.
Components of the best brands and the newest and well-proven technologies have been employed to grant continued functioning of the receiver, high selectivity and immunity to adjacent signals and a higher audio quality.
The exclusive system of module removal for easy maintenance and / or internal inspection without removing panels, complete a unit suitable for all requirements.
RADIO LINK TRANSMITTER TECHNICAL FEATURES 
| PARAMETER | VALUE |
| --- | --- |
| Frequency Range | 820~960 MHz -20MHz sub-band |
| Type of Modulation | FM Class F3 |
| VCO | Tuning 25 MHz |
| Frequency Stability | +/- 2,5ppm (Bettr 0n request) |
| Synthesizer | Step 25KHz |
| Power | Output 20 Watts |
| Spurious Emission | < -80 dB or better |
| Harmonic Emission | < -65 dB (-80 dB on request) |
| Stereo Separation | > 55 dB @ 1 KHz |
| Distorsion | < 0.2% (TYP 00.8 %) @ 1KHz) |
| Base Band | 30 Hz - 60 KHz within 0.15 dB |
| Unweighted | S/N Ratio > 74 dB rms at 30 Hz ~ 20 KHz |
| Enphasis | 50 or 75 us selectable |
| RF Connectors | N-F 50 ohm |
| Input Base Band Imp. | 2 Kohm |
| Input Mono Impedence | 600 Ohm |
| Cooling | Forced air |
| OP. Temperature Range | 0 ÷ +45°C |
| Maximum Umidity | 90% |
| AC Supply | 100 ÷ 240 Volt; 47 ÷ 63 Hz |
| Dimension | 1 Units Rack 19†44 cm Depth |
| Weight | 6.5 Kg |
RADIO LINK RECEIVERS TECHNICAL FEATURES